In Memory
Edward Lee Huebner VIEW PROFILE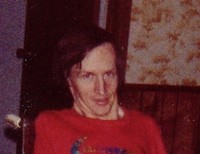 EDWARD L. HUEBNER
When Edward was twelve he flipped his bicycle and broke his neck. The following January he began having problems with paralysis and underwent surgery. After a long battle with physical therapy he was walking, but had limited use of his arms and shoulders.
After graduation from Spring Woods, Edward attended Blinn College, until the City of Bellville hired him as a night watchman. When Austin County Sheriff's Department established dispatching, he was the first dispatcher hired, working in the bathroom, which was converted into a dispatching office in the courthouse. This was in 1975. Eventually he became Chief Dispatcher, heading a tem of ten dispatchers.
He was with the department for 18 1/12 years when he died on July 31, 1993. Members of the Austin County Sheriff's Posse escorted his casket by horse-drawn carriage from the St. John Lutheran Church to the Sheriff's Office. He loved parties, because they involved people. This was only one of his many positive facets. He was an admired fixture in the community, having overcome serious physical disabilities to serve his community. Although he was physically "paralyzed" he was not "handicapped". He died of a heart attack.
A live oak tree was planted on the Austin County Sheriff's Department lawn in living memory of Edward in January 1994. The hope is that is grows as strong as his determination to be an asset to his community.
Click here to see EDWARD LEE's last Profile entry.