In Memory
John Jack Henry VIEW PROFILE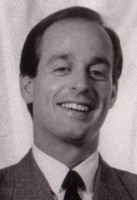 JOHN J. (JACK) HENRY
Jack graduated in 1973 from the University of Houston. Hew as an Independent Sales Representative for a fine jewelry company. Jack never married.
His hobbies were jewelry making and raising orchids. He even traveled to Tokyo for an orchid symposium in 1987. He traveled extensively in Tahiti, Hong Kong, Russia, and all over Europe. He vacationed annually for ten years in France and Italy. He lived in Vicenza, Italy for a year while representing a jewelry firm.
Jack's mother says that he loved life and had many friends throughout the United States. He got to his final position by many long hours of hard work. He said he was going to be prosperous and "live the good live" and he got a good start toward his goals. His parents were very proud that he was so successful.
On one of his trips to Europe he developed a bad case of hepatitis and later died on April 18, 1989 from those complications.
Click here to see JOHN JACK's last Profile entry.